Destiny will prevail
---
'I was late to the bank and was filled with the dread of knowing I had missed the leaving of my Lord. I fell to mine knees with the angst of my own heart for I knew it was true. I had followed my Lords command, and thrown the blade to the water and gasped in awe as I saw the woman of white and gold raise her hand from the lake and take it by thane hilt.

I had known in that moment he had left me forever, and my heart was weary and broken. With all haste, I hurried from the lake, and was told of the fate of my Lord. He was borne away by the handmaidens of the other world. I rode with great speed, mine pain in my throat as I needed to say my farewells and I beat the horse badly to push him along with all haste.

I arrived, and was filled with woe to see the barge of silver as it drifted with care into the mists far out on the white lake of the good realm of Avalon. I felt the feeling of utter desperation rise inside me, as I knew this was the passing of an era. I lowered my head in respect for my friend, and King.

It was then that I heard the strange soft voice in mine ear and at first; I thought, an angel had spoken me to.

"Good Sire, tell me why you bow to the dawn mists?"

As I turned, I saw a young maiden dressed all in white with a hood up above her head that hid most of her face from me. I looked at her for a dazed moment and replied to her thus.

"I mourn the passing of my Lord, for there will never be another as kind or fair and even handed as he."

I felt the pain stir deeply within me as she walked from the trees towards me and lifted her hand to mine elbow. The pain inside me eased with her touch and I felt such a desire to clutch her tight and let all of the sorrow and pain inside me flow out, and be gone. I could not see her face but her voice was so soft and so gentle, I listened with all my attention, as if bewitched.

"Know thus good sire that there are those who can see what will become in the times ahead. This I tell you today as truth, for another will come for his line has not been broken, Throw down your sword good sir and pick up thy quill and write down what has been said here today"

I could not find reason in her words for they spoke of things I hath not learned and my heart raced for such was my desire for her words to be the truth. I gasped as I hung to her words.

"How can this be my young Lady? No Man knoweth what will become of the world"


She remained still with her hand on mine elbow, yet I felt a joy within her, and it gave me a great comfort.

"Believe what has been spoken of here today, and tell the world to watch for the bowman, for he will herald the start of new days"

I felt a wave of happiness inside me and yet I felt she had a strange power on me. She turned and her head lifted slightly, and as the sun rising in the morn sky caught her face, I saw a flash of blue light cross her cheeks and drew a great breath for such was my surprise. I watched as she walked slowly into the trees and the mists swirled around her as if called to her. I knew in my heart I had seen a vision of the lord and I left that place so sacred to me now.

In the woods, I dug a deep pit and buried within it mine armour and sword. Dressed only in my robes I rode to my father's church at Almesbury and felt great hope for the future and the fair land that was freed and built by mine gracious Lord and friend King. It was with much haste I lifted my quill and began to write the life of the one king Arthur.'

'The text of Geoffery of Almesbury AD, 421.'

What was lost
Shall return by other routes.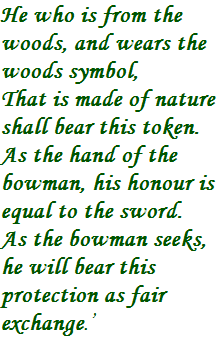 Be warned lords of the realm that in days to come, the land will burn red and your people will die.

Then will the snake grow legs and wings and come forth to you with offers and treaties, and he will covert his true plan to unseat you. Your people will start to die again.

He will poison the land and rid the world of the green one, and in doing so destroy everything.

Gather the swords of the heirs of this land and bring them to the daughters of the table in the woods, for there is the only hope of saving what is important and the true swords man of your land will fight again to restore the balance of power.

Look for the bowman for he will lead them together and forge anew a world that will be truly for earth and man.

Heed my words for if you stray from them the world is doomed.



(The prophecy of Rhiannon as translated by Geoffrey of Almesbury AD 426)

"Without hope, there is only deep despair, beneath hope lies sanctuary inside. Recovered honour lies at his side. Hope lies in the symbols of life. The shield protects, the lion brings courage, and to help you claw forwards, the seed of the wood will lead your king. Bring the five swords together and you will see the path. Your right hand will guide your way."

Here are stated the last final words of Lancelot given to Gawain


SEND FIVE SWORDS THAT SHOULD RISE OVER THE WALL
THE WISE ONE MUST RETURN TO HIS HOME
THE BLOOD THAT WILL FLOW FROM NOBLE VIENS
WILL BE BROUGHT TO THEIR WATERY HOME
MAKE HASTE FOR DARKNESS IS RISING IN THE AIR
LOOK FOR THE SIN IN HER NEST AND GUARD THE EGGS
A TRUE HEIR WILL COME TO A WOODLAND SHRINE
ONLY WHEN THE DARKNESS RESTS
ONE HEIR ALONE CAN WIN THE DAY
ONE HEIR WHO SEEKS THEIR OWN FATE
BUT THAT MOMENT WILL TRULY ONLY BE KNOWN
WHEN THEY ARE STOOD BY THEIR GARDEN GATE.


Seeker of knowledge and the truth, you have done well to travel so far in your quest. Here lie many questions with many answers, good luck as you aid the bowman. Remember, all is not as is seen, and yet it may be seen in many others ways. That which is hidden, always has a way to see it. Look Deep and far thee well.
A selection of the clues to the Kingdom
© Robin John Morgan 2009
Houses made from old trees, circles join on a lakeside breeze.
Flower from the meadow sweet, on a garden pond old friends will greet.
Crystal cut without a knife, hide the keys and a secret life.

Into the valley with a staff as a guide, lines of gold does an old friend hide.
Boat across the lake, the golden tomb, down deep dark steps to an open room.
Table sat in an oval light, bridge of stars at the sound of midnight.
Star of light, star of lines, sleep in the grass and relive old times.


Time breaks all circles; stretch it out into a line,
Lay it down in the void, a broken circle, or a line.
Return to the blind, cross the boundary you make shine,
Build a bridge of intention; take the circle to the line.

The Ryhme of Sequana the Seer of Avalon